UPPERMILL BAND ANNUAL AWARDS 

On the night before their performance at the 2016 North West Regional Brass Band Contest the Uppermill Band held their Annual Band Awards for 2015/16

The Award Ceremony was hosted by Chairman John Ward and the results were as follows:

Most  Improved  Player  (chosen by MD Alan Widdop):
Julia Owen Flugal 
 

Most  Improved  Section (chosen by MD Alan Widdop): Horn Section
Cassandra  Teggart
Nicola Masters
Lauren Brundell
Gillian Kirkby
Players Player Award ( voted for by all the Players)
1. Mark  Rodgers                Soprano Cornet
2. Gemma McKee.              Assistant  Principal Cornet
3. Cassandra Teggart          Solo Horn

Bandsperson of the Year (Voted for by the Band and the Committee) 
  
1.   Stephen Hall               2nd Trom/Solo Baritone
2.   Graham Pollard           Librarian
3.   Mark Rodgers             Soprano Cornet 
Meritorious Service Award (Voted for by the Committee): Stephen Hall

Quote of the Year      Joshua Schofield -Lea
 Last beat announced for Widdop and Uppermill
4-Jan-2016
The 12 year partnership between Uppermill and Alan Widdop will come to an end at the North West Regional Championship. 

---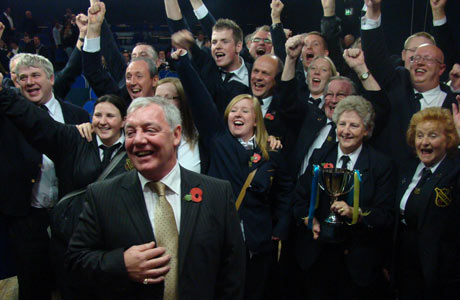 4BR has been informed that the highly successful musical partnership between Uppermill Band and MD Alan Widdop will come to an end after the North West Regional contest in February.
Victories
The performance in the Second Section at the Winter Gardens will mark the end of twelve years together - a period which saw the combination claim an unprecedented four consecutive Pontins National titles, as well as a plethora of victories at regional contests in Buxton, Holme, Fleetwood, Kippax, Beaumont and Manchester.
The band also won the Fourth Section area title in 2008 and went on to come runner-up at the National Finals.
Very happy
Alan told 4BR: "After twelve very happy years at Uppermill, the Area contest will be my last performance with them as MD. 
After taking the band from the Fourth to First in this time it has been twelve years of pleasure and fulfilment. It's also had its ups and downs like most bands, but I couldn't have asked for any more dedication and commitment. I have also made many good friends." 
He added: "I now feel the time has come though to move on, so I would like wish everyone all the very best for the future after we last take to the contest stage at Blackpool."
New Signings at Uppermill
We are pleased to announce  the following new players to our team in preparation for the forthcomng Contest Season 
Mark Rodgers joins the Band on Soprano Cornet following a short break having previously played on the cornet rank with most of the top section bands in the area and in more recent years the Delph Band.
The Solo Trombone position has been filled by John Armbrister who returns to the same position he held at Uppermill prior to a long career in Military Service.  John is joined on the trombone rank on a pro-tem basis by Carol Day who has enjoyed a long and successful career with the Wardle Anderson Band.
Rejoining the Band are Steven Sanders, Gillian Kirkby and Lauren Brundellon BBb Bass and Tenor Horns respectively. In addition Roman Galaska has also rejoined the Band to strengthen the Euphonium section.
"After a long period of stability which brought many successes and promotions from 4th Section through to 1st we have, in recent months, seen the departure of several players for various reasons including  maternity leave, work commitments and re-location.   This brought about a period of recruitment and rebuilding.  We are now in a position to welcome all our new recruits who bring with them a wealth of experience and playing ability.   At the same time the Band would like to thank all players who have moved on, for their much valued contributions and wish them all well for the future."  
                                                                                        7th February 2015
UPPERMILL BAND PLAY THEIR 'MAGIC FLUTE' AT BOARSHURST.
The Sunday Brass audience at Boarshurst Band Club, Greenfield, were treated to a scintillating selection of music on Sunday 13th May 2012.
Under their musical director Alan Widdop, the Uppermill Band opened the first half with an army march, "Through Bars and Bolts" by composer Ernst Urbach. What a tempo! And what a sign of things to come! The band showed off a depth of sound to be proud of.
In traditional fashion we were then treated to the overture "Zauberflote" – "The Magic Flute" by Mozart, arranged for brass band by the great William Rimmer. The playing was simply superb; such balance in sound and those wonderful chords came shining through. Simply 'magic'!
The first soloist of the evening, 2nd cornet player Bethany Moore, then gave us her first solo performance with the band in Joy Webb's "Share My Yoke", arranged for brass band by Ivor Bosanko. Bethany showed us her skill as a slow melody player tonight; more to come from this talented young player. Well done also to the band for their very sensitive accompaniment, particularly to the euphoniums and baritones with their sonorous treatment of the opening chords!
Light music followed with George Gershwins "I've Got Rhythm", arranged for brass band by Alan Fernie. This 1930's classic was given the full treatment by the band, just made you want to dance!!
The evocative sounds of Joyce Eilers Bacaks' "Irish Blessing" came next, displaying the beautiful sounds of a well-balanced brass band, and featuring the tenor horns and flugel horn. This arrangement by Stephen Bradman is sublime.
Off to Spain now, and what an atmospheric trip. Flugel Horn soloist Tom Gibb displayed his flare to the full with a superb rendition of Joaquin Rodrigo's Adagio from his Concerto de Aranjuez, arranged for brass band by Kevin Bolton.
"Tara's Theme" composed by Max Steiner, from the 1939 epic film "Gone With The Wind" was next up. This arrangement for brass band was by Alan Catherall.
We were then transported to a style of playing reminiscent of early 1920's North America with Alan Morrisons composition for cornet and band, "Buster Strikes Back". Assistant principal cornet Matthew Murray displayed with aplomb his ability to play a trumpet on a cornet. Great sound!
Darrol Barry's superb arrangement for brass band of Freddie Mercury's Queen classic "Bohemian Rhapsody" rounded off the first half leaving the audience more than satisfied and eagerly anticipating the remainder of the concert.
The Uppermill band obviously enjoy the 'swagger' tempo in their marches, and the opener of the second half didn't disappoint. Josef Franz Wagner's "Unter dem Doppeladler" (Under The Double Eagle) brought everyone to attention in fine style.
An all-time favourite of mine followed which I believe should be in every band listeners record collection; Malcolm Arnolds "Little Suite For Brass Op. 80" played in its entirety. Uppermill Band displayed excellent control and balance of sound and the detail of the composers music in the three movements "Prelude", "Siciliano" and "Rondo" shone through. Well played Sarah Hudson on principal cornet!
The horn section featured next in Derek Ashmores arrangement of David Gates song "If". Tenor horns Cassandra Teggart, Nicola Masters, Maria Honess, and flugel horn Tom Gibb collectively produced a very fine rendition of this well-known song, with a little help from the trombone section who just couldn't contain themselves any longer. Well done to all!!
As it was a Sunday evening the conductor included an extra piece next; a lovely arrangement of the hymn "Holy Holy Holy" to the tune "Nicaea" arranged by William Himes. Beautiful!
Agility was the name of the game next with a scintillating display from solo euphonium star Sean Conway, with a brilliant performance of Vittorio Montis' Czardas. What a player!
A traditional New Zealand melody featured next with Peter Grahams arrangement of Hine e Hine. The sound of Tom Gibbs flugel horn accompanied by the well balanced sound Uppermill Band provided a reflective mood as the concert drew towards its close.
Gordon Langfords contribution to brass band music is immense, and his arrangement of Arthur Sullivans "The Lost Chord" is one of his most well-known. Great sounds filled the Boarshurst Band Club in this traditional finisher.
The band were so well received that conductor Alan Widdop produced what can only be described as one of the best performances of the 'Brassed Off' version of "William Tell" I have heard in a long time, complete with a breath-taking obligate middle section, normally played on cornet, but this evening provided by the euphonium of Sean Conway.
A BIG THANK YOU to Alan Widdop and the Uppermill Band for a fabulous concert of music, and may we wish them all the very best with their upcoming CD recording next weekend.
Review by John Whittle (flugel horn, Boarshurst Silver Band and Phoenix Brass), 14th May 2012.
Uppermill Press Release March 2012
Uppermill Band are now looking forward to the challenge of being a First Section Band from January 2013 following their result at the 2012 North West Regional Brass Band Contest.

After being placed 4th in the contest, Uppermill will now be promoted to the first section which is the highest section the band has ever been placed in. Although from their previous track record, a further promotion may not be too far away.

Consistent
Chairman John Ward said "We delivered a quality performance off a No 1 draw so although we are disappointed not to have qualified for Cheltenham we know we are at a level that should see us win the battle for major honours this season. Over the years under the leadership of our experienced MD Alan Widdop we have achieved a consistent progression in our performance, which has rewarded the band with promotion to the 1st Section in 2013.

This is our 3rd promotion in 6 years and in those 6 years the band have been consistently placed in the top 6 of their section."

High Standard
Formed in March 1979 initially as a Youth Band, Uppermill Band have under the direction of their MD Alan Widdop consistently achieved a high standard of results in all their competitions from 2007 to 2012. This record includes the band's four Pontins Championship wins and their top 6 placings over the last 6 years.
Uppermill Band Awards

On the night before their performance at the 2012 North West Regional Brass Band Contest the Uppermill Band held their annual band awards for 2011/12.

The Award Ceremory was hosted by Chairman John Ward and the results were as follows:

Most improved player (chosen by MD Alan Widdop): Richard Blythe - Percussion

Most improved section (chosen by MD Alan Widdop): Backrow Cornets 

Players Player (Voted for by the Band)
1. Sarah Hudson ­ Principal Cornet
2.Cassandra Teggart - Solo Horn
3.Richard Blythe - Percussion

Bandsperson of the Year (Voted for by the Band and the Committee) 
1.Dave Woodward - 2nd Euphonium
2.Paul Applegarth - Bass Trombone
3.Ben Pollard -Solo Baritone

Meritorious Service Award (Voted for by the Committee): Chris Bardsley

Quote of the year (Again!): David Mansfield
Feb 2012 Annual Band Awards

The annual band awards for 2011/12 were announced at a glittering ceremony on the night before the Area Contest at our overnight stay in Blackpool.

The results were as follows:

Most improved player (chosen by MD Alan Widdop): Richard Blythe - Percussion



Most improved section (chosen by MD Alan Widdop): Backrow Cornets



Players Player (Voted for by the Band)
1.Sarah Hudson - Principal Cornet 


 
2.Cassandra Teggart - Solo Horn


 
3.Richard Blythe - Percussion 


 

Bandsperson of the year (Voted for by the Band and the Committee)
1.Dave Woodward - 2nd Euphonium



2.Paul Applegarth - Bass Trombone



3.Ben Pollard -Solo Baritone




Meritorious Service Award (Voted for by the Committee): Chris Bardsley




Quote of the year (Again!): David Mansfield


Jan 2012 Personnel Changes at Uppermill

Since the Area Contest Uppermill Band has seen a number of changes in playing personnel.
The Band has secured several new signings in preparation for the 2012 contesting season.

New recruits include:-
Andrew Eastwood - Solo Trombone - formerly Friendly Band and Marsden Silver.
Mark Sillence - 2nd Trombone from Dobcross Silver
Maria Honess - 2nd Horn also from Dobcross Silver
Kevin McGowan - BBb Bass previously with Diggle Band and Marsden Silver
Matthew Murray - Assistant Principal Cornet from Hebden Bridge Band
Joanna Hall - Tutti Cornet from Oldham Band (Lees)
Bethany Moore - 2nd Cornet from Elland Youth
Natalie Wolstenhulme - 3rd Cornet previously with Huddersfield & Ripponden Brass
Jim Owen - Euphonium who has joined from Nelson Band to assist at Butlins and Area Contests
Kate Woodward - 2nd Cornet, the most recent addition is from Marsden Silver.

Chairman/Band Manager John Ward said "Uppermill Band have enjoyed a very successful 7 year period with minimal changes in personnel leading to many successes in the contest arena including an unprecedented 4 consecutive wins at the Pontins Contest.
Unfortunately due to work/study commitments and for personal reasons some players have had to leave our ranks and I would like to take this opportunity, on behalf of Uppermill Band to thank all these players who have played their part in the Bands successes and its rise from 4th to 2nd Section and wish them well for the future. We must now look forward to a new chapter at Uppermill and to continued success with our new team and our MD Alan Widdop"
April 2011 - Band loses stalwart follower.

Uppermill band lost one of it's most loyal supporters when life member Cyril Ralph passed away. The funeral of Cyril, who had suffered ill health recently, took place at Dukinfield cemetery on Friday 15th April where the Band paid tribute at the service..
As well as being a Life Member and contributor to the band, Cyril was a loyal follower until infirmity limited his mobility.
His Grandson, Chris Gillespie, is the band's Soprano player. Daughter Denise Gillespie and Son-in-law Graham Gillespie have been involved with the band for years as percussionist and committee members.        
The thoughts of the band go out to the family at this time and Cyril will be missed by all those that knew him, not only for his enthusiasm but also for his store of jokes and silly stories.

March 2011 - End of an era at Uppermill
 
The Tameside contest on Sunday 27th March 2011 saw the end of a long banding career.
Second cornet player Anne Dorman made the difficult decision to bow out of banding mainly due to the ill health of her husband, Gordon, himself a former member of Uppermill band.
Anne joined Newton Heath band in 1950 and for over 36 years was it's principal cornet player under that name and subsequently British Aerospace (Chadderton) Band. She later occupied the flugel horn seat and was with the band until it folded.
Anne "helped out" Uppermill in 1999 for a contest and has been with the band ever since on flugel horn and more recently on second cornet.
Her experience has helped many younger and/or less experienced players over the years and she will be sorely missed by all at Uppermill. We wish Anne all the best for the future.

Uppermill Open the Ball

Uppermill band served as the opening act to the Mayor of Oldham's charity ball on Friday 4th March 2011.
Councillor David Jones, about to retire as Mayor held his charity ball at the Queen Elizabeth Hall in Oldham and invited the band to open proceedings by supplying light music for guests to listen to as they filed into the hall after being greeted by the Mayor. Bearing in mind the Mayor's (and Mayoress') Welsh roots, "All through the night" and the traditional hymn "Cwm Rhondda" were included in the programme by MD Alan Widdop, along with other popular music. The programme was well received and later in the evening guests were enquiring if the band would be performing again. 

Changes at Uppermill. 

Assistant principal cornet player Sue Ellis and her partner, second trombone player, Paul Mooney, bowed out of the band after the North West Areas due to study and teaching commitments. All the band wish to thank Sue and Paul for their contributions over the years. The band will miss them both not only for their contributions to the progression made during their time playing, but on a personal level also. We hope that they will keep in touch.  No doubt we will be seeing them both at the top of the deps list.

North West Area

Uppermill band were at the area championships last Sunday (27th February) playing in the second section for the first time and came away with a creditable fifth place, ahead of several local rivals and some bands already well established in the section. This follows on from a sixth place at the Butlins Mineworkers Open Championship in January. This was a good result for the band which has moved up from the fourth section through to the second quite rapidly

Annual Band Awards

The annual band awards for 2010/11 were announced on the night before the Area Contest at our overnight stay in Blackpool 
Most improved player Jenny Smirk - 2nd Cornet 
Most improved section Baritones/Euphoniums 
Players Player 
1.Sarah Hudson - Principal Cornet
2.Ben Pollard - 1st Baritone
3.Paul Applegarth - Bass Trombone 
Bandsperson
1.Graham Pollard - Committee
2.Jenny Ward - Treasurer
3.Graham Gillespie Percussion 
Committee Meritorious Service Award Brian Gledhill. 
Quote of the year David Mansfield 

January 2011- Butlins
Uppermill Band made the trek to Butlins in Skegness for the band's first ever contest in the second section  on 22nd January. After a 7:45am rehearsal, the band attended the draw to find they had drawn the "dreaded" number one and were due on stage at 10 am to start the contest. Musical Director Alan Widdop came off stage happy with the band's performance, but there was a wait until 8pm for the results to be announced. A result of a sixth place out of sixteen bands was a creditable result, especially since some established 2nd section bands were placed lower, and the odd demoted first section band was in the section as well. Uppermill band next head to Blackpool at the end of February for the area championships which could result in a place in the National finals in Harrogate later in the year. 
October 2010 - Pontins 

On Saturday 23rd October, Uppermill Band played in their last contest of 2010 at the Pontins Championships in Prestatyn. 

Just prior to our solo baritone player Ben Pollard (birthday boy!) collecting the winners trophy for the fourth year in a row (twice in the 4th section and now twice in the 3rd section), the bands newest recruit, 11 year old percussionist Richard Blythe, had picked up the trophy for being the youngest player in the third section. This was his first contest with the band. 

From January 2011, Uppermill band will be competing in the 2nd section and the stakes will be higher and the music more challenging, so their next contests at Butlins in Skegness and the area championships at Blackpool in February will mean the band will have to up their game to a new level. 

July 2010 - Durham Miners' Gala

At 4am the coach was loaded up with most of the band and a few guest volunteers for the band's third excursion to the Durham miners gala.
A bite to eat and a brew at "The Bird" public house at 7-30 then at 8 o'clock we marched through the village of High Handenhold in front of the miners lodge banner then back on the coach for the drive to Durham.
We formed up near the county hospital with a 32 strong band, about twice the size of some of the others taking part, and marched through the city centre to play outside The Marriot hotel where the dignitaries were waiting on the balcony for the bands to stop and play.
"All that jazz", our chosen piece, had most of the celebrities and a fair proportion of the crown singing along, tapping feet and hands etc, then it was off to "The Racecourse" where the gala is focused and the banner and instruments were stacked whilst the players and supporters took a rest and had some food a drink to replenish themselves in view of the heat but also the humidity of the day.
The march back through Durham started about 2-30 with a stunning Uppermill band waltz / tango around the people on the field who didn't want to get up from their chosen sunbathing spots, with barely a note out of place.
The playing of the miners hymn "Gresford" outside the hotel on the way back went down well, then it was back through the city to the coach, just managing to get there as a short sharp rain shower came down.
Back to High Handenhold and a reverse march through the village to the pub where "All tha jazz" and "Gresford" were appreciated again by the villagers and the food laid on was most welcome before the journey home to Saddleworth.
Thanks to the band but very much so to the friends and family who turned out to boost the band's numbers so impressively. 

June 2010 - New Principal Cornet 

Uppermill band is delighted to welcome back Sarah Hudson to it's ranks in the principal cornet seat. Sarah played for the band previously as assistant principal cornet, before moving on to further her playing career. We look forward to Sarah taking up the challenge to lead Uppermill Band forward, especially in 2011 when the band moves into the second section. 

2010 - Annual Band Awards
Most Improved Player Christopher Gillespie - Soprano 
Player's Player 
1st Mike Kowalski - 1st Trombone 
2nd Ben Pollard -1st Baritone 
3rd Tom Gibb - Principal Cornet 
Bandsperson 
1st Graham Pollard - Committee
2nd John Ward - Chairman 
3rd Jenny Pollard - Committee 
Meritorious Service Award Brian Jenkins 
Quote of the Year Alan Widdop
June 2009 - Presentation 
At this week's 30th Anniversary Beer & Brass Concert a Presentation was made to Chairman Mr John Ward and his Wife, Treasurer Mrs Jenny Ward, in honor of their devoted 30th Years Service to Uppermill Band. Behind the scenes of every successful organization you will find people who give their time and efforts without question, therefore enabling the smooth running of most things, Jenny and John Ward are two of these people, having worked tirelessly for the past 30 years often without any recognition. There are indeed many 'jobs' to be carried out within a Brass Band but Jenny and John have probably taken on most of them and carried them out successfully for the benefit of Uppermill Band. Their time started with the Band when their children, Ian and Alison, joined the band back in 1979 and as do most parents, they offered their help back then to the Band possibly not realizing then that 30 years later they would still hold such strong and important positions within the Band. It has to be said that with out them both we would not have the kind of organization in our Band that we do, something to be very proud of indeed. So we would all like to say a very big Thank You from all of us here at Uppermill Band to Jenny and John, congratulations on your wonderful achievement and long may your work with us continue. A presentation of a Lead Crystal engraved vase was made to Jenny and John by Mr Graham Pollard, Committee Member and Band Librarian. May 2009 - Celebrating our 30th Anniversary - 1979-2009 It was back in March 1979 that the Band was first formed. To coincide with the Band's 30th Anniversary it was decided to officially open the new Band Room at Saddleworth Cricket Club, on what was a most glorious evening. Chief Guest of Honor and cutting the official 'Blue' ribbon, was Mr Richard Evans, known worldwide as one of the top Musical Directors and Adjudicators, together with Mr Peter Bates, who is the North West Regional Brass Band Association Chairman. The evening was well attended with players, committee members and previous Musical Directors of the Band both past and present, as well as many friends and associates of the Band over the last 30 years. This year has been a tremendous start for the Band with excellent contests results in our new found 3rd Section. An announcement was made on the evening that the Band had received a letter from the North West Counties Brass Band Association, with news of promotion to the 2nd Section. Again a tremendous achievement! To mark this special occasion a presentation of the band crest in the form of a Pin Badge was made to each Player and Committee member, again both past and present.
April 2009 - Uppermill Band on BBC Radio 4
On Saturday 18th April 2009 Uppermill Band were featured on Radio 4 from with live recording from last years Durham Miner's Gala (2008) on their first ever visit. The band were fortunate enough to be recorded throughout the day on the Big Meet, both marching around the city of Durham itself and also in the magnificent Durham Cathedral. The band played pieces such as the well known hymn, 'Onward Christian Soldiers", and other well known marches, "Colonel Bogey", & "Slaidburn", for example which are featured throughout the 60 minute story telling with a 'Special Thanks' to the band in the ending credits.  The play itself: "Douglas Livingstone's play about Bevin Boys, the young men who were sent down the mines instead of joining the armed forces in the Second World War. Two 80 year old former Bevin Boys, who have not seen each other for 63 years, decide to go to the Durham Miners' Gala together and confront their memories of the past." (Source BBC) 
March 2009 - Annual Band Awards
Most Improved Player 
Michelle Kowalski - 2nd Trombone 
Player's Player 1st Tom Gibb - Principal Cornet 
2nd Ben Pollard -1st Baritone 
3rd Mike Kowalski - 1st Trombone 
Bandsperson 1st Graham Pollard - Committee 
2nd Denise Gillespie - Secretary 
3rd John Ward -Chairman 
Meritorious Service Award Paul Johnson